Royal Philharmonic Orchestra Illustrations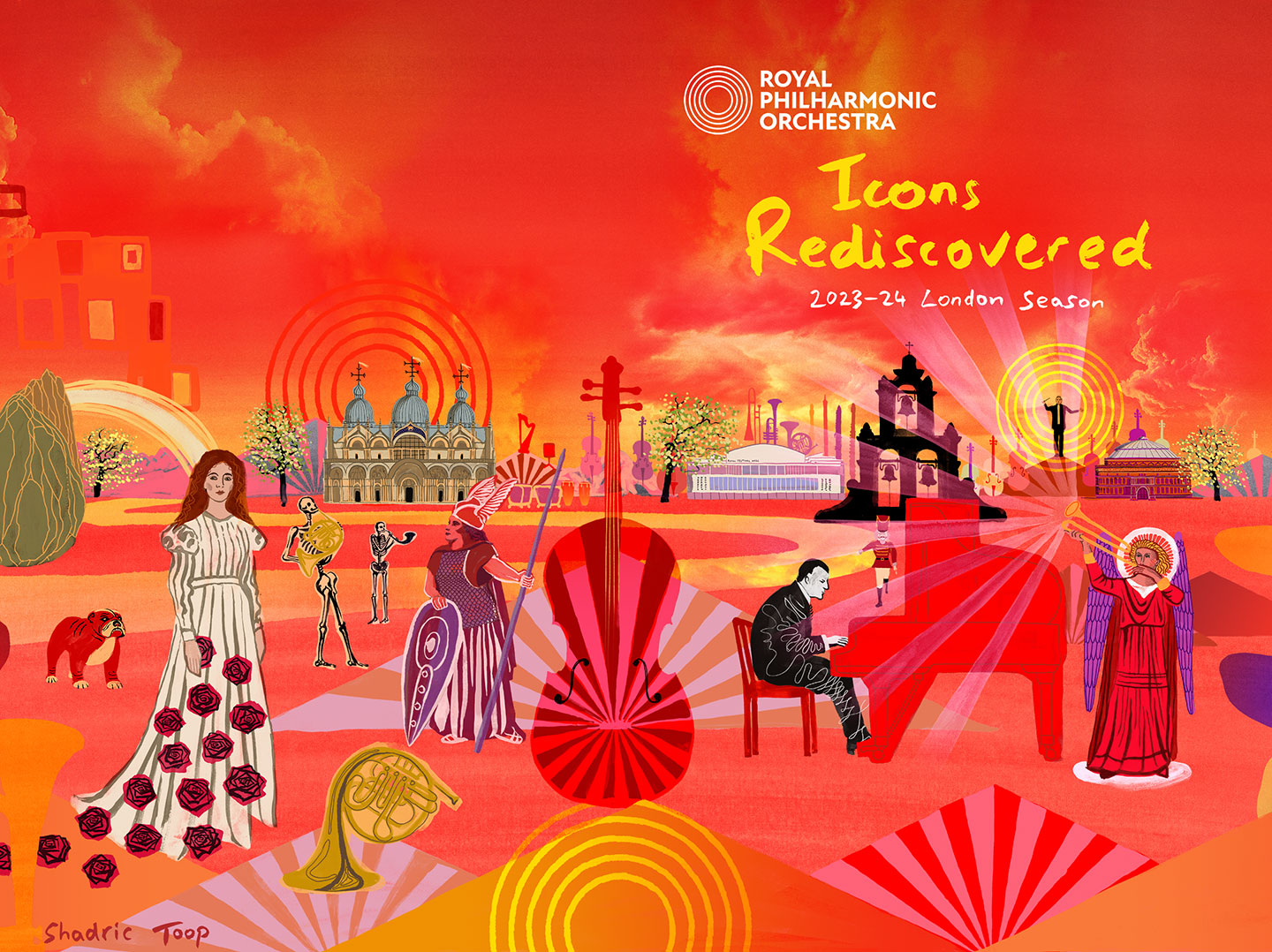 Royal Philharmonic Orchestra illustrations – Project Background
The Royal Philharmonic Orchestra (RPO) was founded in 1946 to provide a permanent home for the finest British musicians, and it quickly established itself as one of the leading orchestras in the world.

Toop Studio worked closely with the RPO to create a series of illustrations to promote their new season, Icons Rediscovered, for 2023–24.

Icons Rediscovered will feature five well-known composers: Elgar, Rachmaninoff, Verdi, Tchaikovsky, and Wagner. In this series, the RPO will take a fresh look at these iconic composers and their music, exploring the burning inspiration, living emotion, and human personality behind their masterpieces.
The concept behind the illustrations
The illustrations were inspired by the idea of a landscape of icons. I started with a collage process, as I wanted something with an abstract other-worldly feel. The client and I discussed various iconic themes around the seasons' stories and composers.

Some of these themes along with their corresponding composers include:

Auerbach – Icarus' Wings

Tchaikovsky – Princess Iolanta, roses, French Mountains

Rachmaninov – Dark fantasy, French horns, Dies Irae death theme, Bells

Wagner – Winged/feathered headdresses/helmets, Valkure, The Rhine, Rings & Fire

Elgar – St Mark's in Venice

Verdi Requiem – Winged angels, dramatic skies

The final result combines some of these themes with various orchestral instruments and a conductor figure (representing Vasily Petrenko, the RPO Music Director). On the horizon are the 2 key performance venues – the Royal Albert Hall and Southbank Centre's Royal Festival Hall.

The striking colour palette was designed to communicate the joy and power of the programme and to cut through on webpages, social media printed brochures and posters.

Shadric Toop, May 2023
Client Testimonial
'Shadric has produced a vibrant and unique piece of artwork that captures the essence of our series. He was enthusiastic, efficient and a pleasure to work with on this project.'

Doran Crowhurst
Print and Programme Manager
Royal Philharmonic Orchestra