Glyndebourne Festival Illustration 2019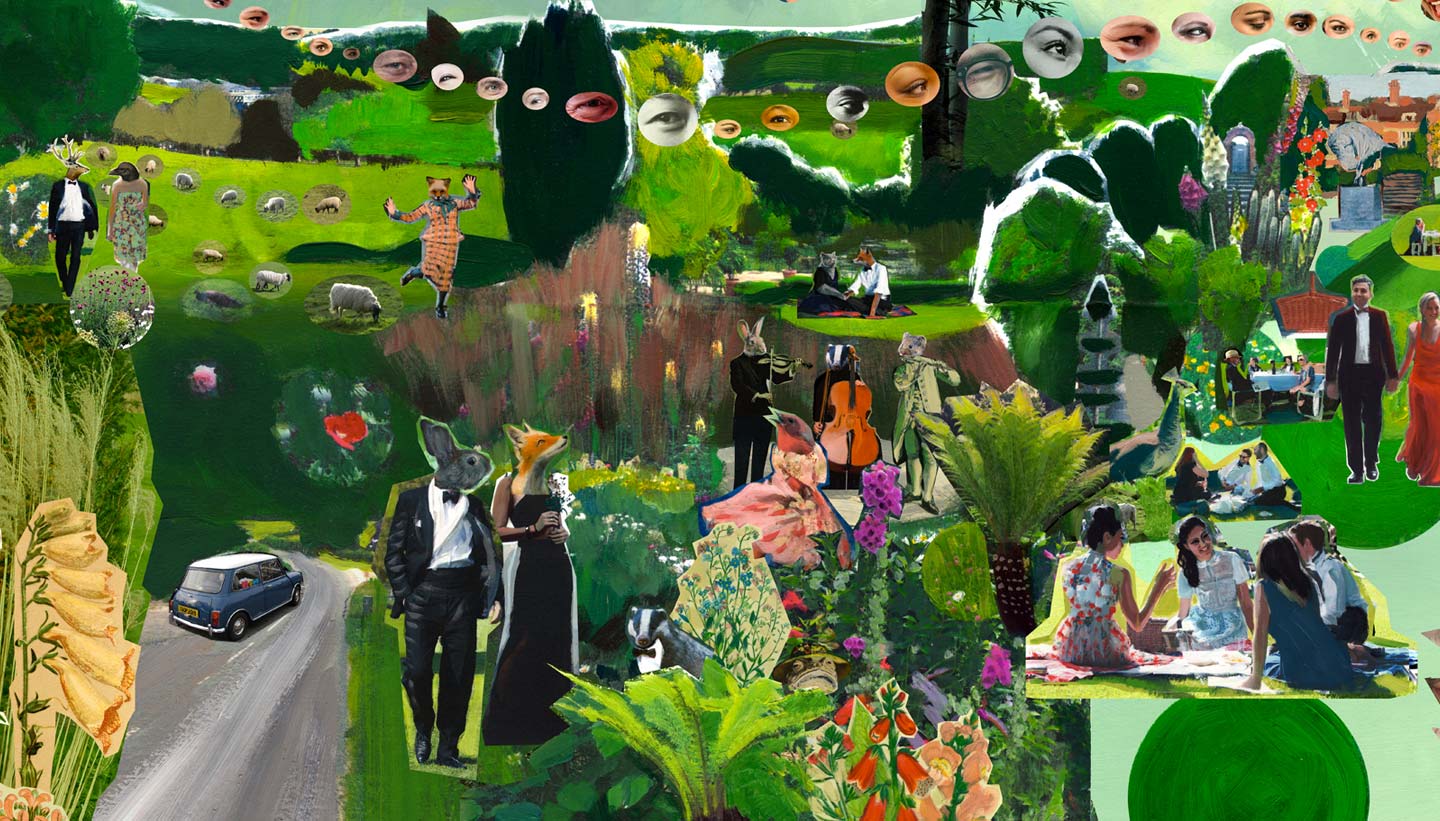 Glyndebourne Festival Illustration 2019
A set of illustrations created for the 2019 Glyndebourne Festival and Tour. The illustrations are a combination of collage, painting and drawing. They formed the visual identity for the season, appearing in Glyndebourne programmes and on the website.

Included in the Festival set are:
Festival Cover Image
The cover image introduced a surreal collage-based visual identity to represent Glyndebourne's Festival and Tour in 2019.

The artwork combined images of the gardens and grounds at Glyndebourne with musicians, performers and picnicking audience members. There are more surreal elements too, such as foxes, badgers and other animals dressed for the opera. There are also streams of isolated smiling mouths, ears and eyes that represent the sensory experience that Glyndebourne operas offer.

See the artwork in the original Glyndebourne Tour 2019 brochure

An example of the artwork still in use on the website.
La damnation de Faust
(Berlioz)
Il barbiere di Siviglia
(Rossini)
See the artwork in use
Cendrillon
(Massenet)
See the artwork in use
Rusalka
(Dvořák)
Die Zauberflöte
(Mozart)

–

Included in the Tour set are:
Tour Cover Image
The visual identity for the tour in 2019 was an evolution of the festival collage-based artwork. The concept for the tour hero image was based on a tree.
See the artwork in use
Rigoletto
(Verdi)
See the artwork still in use
L'elisir d'amore
(Donizetti)
The Client's Response
'The artwork is lovely and really goes very well with our concept. Once again we are thrilled by the beautiful artwork created by the design team which includes so much of our dramaturgy.'

Andre Barbe
half of the design / directing duo Barbe et Doucet for Die Zauberflöte / Magic Flute

–

'these are AMAZING! Thank you so so much!'

Louise Williams
Head of Marketing (2018)

–

'Everyone loved your creative – thank you for all of your efforts on it.'

Charlotte Alldis
Marketing Manager

–
Related Projects
–

Full image credits

Festival
Festival cover image: painted collage by Shadric Toop / source images from Sam Stephenson, James Bellorini, Leigh Simpson and Wikimedia Commons
La damnation de Faust: painted collage and original photography by Shadric Toop / other source images Wikimedia Commons
Il barbiere di Siviglia: painted collage by Shadric Toop, source photography by Bill Cooper / other images Wikimedia Commons
Cendrillon: painted collage by Shadric Toop, source photography by James Bellorini / other images Wikimedia Commons
Rusalka: original photography and painted collage by Shadric Toop, source photography by Bill Cooper
Die Zauberflöte: painted collage by Shadric Toop, source images from Wikimedia Commons
Tour cover image: painted collage by Shadric Toop, source images from Shadric Toop, Mike Hoban, Alastair Muir, Wikimedia Commons and Unsplash
Festival Brochure design: by Ned Campbell


Tour
Rigoletto: painted collage by Shadric Toop, source images from Wikimedia Commons and Unsplash
L'elisir d'amore: painted collage by Shadric Toop, source images from Mike Hoban, Wikimedia Commons and Unsplash
Tour Brochure design: by Kate Benjamin